NEWS
Beautiful Memuna entered a 'salon', she came out needing surgery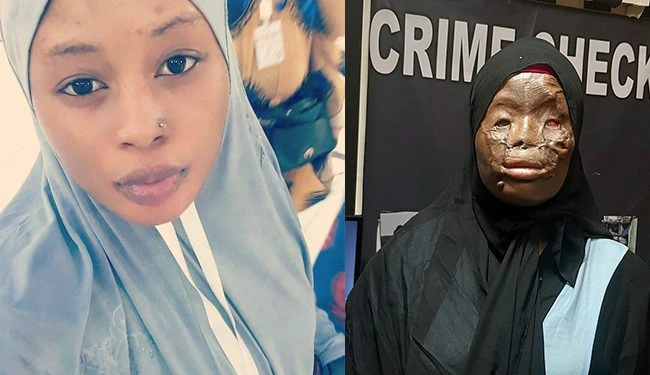 A woman, Memuna Malik, is battling suicidal thoughts after she was drenched in an acid attack.
It was a day in December 2018 when Memuna, then 27-years old, went to braid her hair at a house in Saudi Arabia, where she was based as a casual worker.
Midway into the braiding, another woman, Salomey, stormed into the house with an acid intended for the hairdresser, Rabi.
The hairdresser and the woman were fighting over an apartment.
But in a fit of rage, she mistakenly poured it on Memuna, disfiguring her instantly.
"As Rabi was braiding my hair, she stopped to go and eat. As she was eating, we heard a knock on her door and she asked me to help her open it. As soon as I opened the door all I saw was someone pushed me and poured a substance on me. That was my end" she narrated.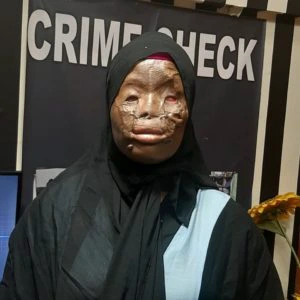 In an interview with crime prevention advocacy group, Crime Check Foundation, Memuna said she had to return home as she was no longer wanted by her employers.
"I had to come back home  because I couldn't see anything talk less of going to work to cater for myself. Rabi too visited me only twice and have never visited again. I returned to Ghana without a pin. Here I am without even a pesewa to go to the hospital because I still feel pains and sick always". she said
Saudi authorities promised to arrest her attacker but Memuna says she could not follow up on the case after she was brought to Ghana.
She has completely given up on life and prefers to die. "I'd rather die than to live this painful life" she said.
Narrating her struggles since her return, Memuna said when some children saw her they started running away because they thought they had seen a ghost.
"One day my mother wasn't well so I decided to wash our clothes and go dry them outside. As I was drying the things, two children that were standing by were having a conversation and one told the other that- you see this sister her face is really scary and looks like a monster, that made me less of a human being".she said
Her mother, Hajia Safia, who could not hold her tears said it was difficult when she first saw pictures of her daughter after the incident.
"It wasn't easy for me at all because she is all I've got in life. She traveled to go and seek greener pastures to support the family and see what has happened to her" she added